Kogi BBQ – was it worth the wait?
I don't like standing in lines. I obviously JUST blogged about my lack of patience. However, I am a follower of Kogibbq on twitter. Why do I follow them if I've never partaken of their delictable food?
Because this is what their korean bbq chicken taco looks like:
I drool over every twitter I get, and dream about one day being able to get off work, not have a schedule conflict, and be able to eat a Kogi taco. They're genius, they've since expanded to 2 trucks, and a location in Venice.  I do have to owe all knowledge to Kari… who I should have listened to and acted immediately. Now they've got so much coverage it's nuts.  A taco is $2 and you get that! Ok, it's kinda small, about 4-6 will do a meal for you, so plan on $8-$12 in spending.  Burritos are $5.
I finally gave in and accepted the fact that I would have to wait in some kind of line (still haven't had Pinks, the line just isn't worth it for a hot dog).  Friday at 5:15pm I got a text saying Kogi was on it's way to Little Tokyo. This prompted me to leave work immediately and rush home. I knew they would be late, so I figured I'd get there when they got there. This assumption was true. The assumption that hoards of people would actually show up and line up before they got there is what I didn't account for.  I dragged Whitney, Ashley, and baby Tanner along. Ashley gave up and sat in the car. Tanner fell asleep, and poor Whitney stood there the whole time with me. She did take several photos of the line and the trucks (I'm sure there will be a blog post on her part). 
We waited in line for an hour 40. The whole time smelling the wonderful smell of korean bbq chicken and short ribs! It was maddening.  I hadn't eaten anything since 11am, and well by the time I got the delicious Kogi sparerib and spicy bbq chicken taco and the sparerib burrito, well I forgot to take a photo of the before… so all you get is after. That sauce was SOOO delicious, and the chicken was so flavorful.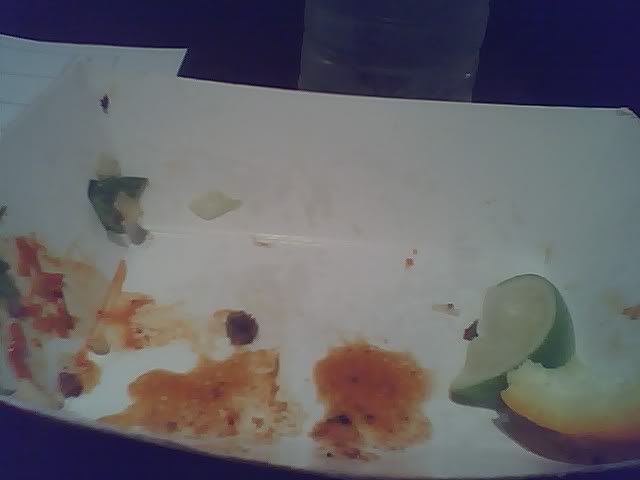 The chicken tacos are my favorite favorite, and all I think I ever want to get. I'm sitting here planning my next trip and drooling as I type this. I did get a burrito, that was good, but just not as yummy as the taco. I think it had egg and cheese in it, and would've been great for breakfast.. or I guess a 1am snack after clubbing (kogi's target market).
From Kogi's site:
The taco comes with:
sesame-chili salsa roja julienne romaine lettuce and cabbage tossed in Korean chili-soy vinaigrette
cilantro-green onion-lime relish
crushed sesame seeds
sea salt
garnished with lime wedge, orange wedge and red radish wedge